he Penfield Gallery has hundreds of Zuni fetishes carved by the best artists from Zuni Pueblo available in their Albuquerque store. A considerable number of these can be seen on this website, the most extensive selection of Zuni fetishes available on web. The gallery carries pottery made by the artists of the New Mexico Pueblos, as well as those of Hopi and the Navajo Nation. There is a large collection of miniature pottery, especially from Acoma and Santa Clara Pueblos, as well as the more traditional forms.

The Navajo rugs carried by the gallery are all hand-woven, many of hand-spun wool, and come mainly from the western part of the Navajo Nation. A specialty is sandpainting rugs from the Shiprock area. Navajo sandpaintings are also found here, with large and highly detailed sandpaintings being available. A large selection of Pueblo storytellers is carried, including pottery masks. Navajo folk art and Zuni beaded figures are also available. We have recently added the gourd art of two renowned non-Native artists, Robert Rivera and Tony McGregor.


For over 100 years, the Penfield Company has been a tradition in New Mexico, carrying only the finest Native American arts and crafts. Since 1975 we have been located in Albuquerque's Old Town on South Plaza. We invite you to browse through our online display. Orders may be placed by email or telephone. If you are in the Albuquerque area, we invite you to visit our gallery on South Plaza in Old Town.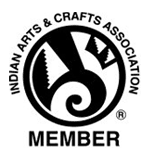 We also have a short history of Penfield Gallery with pictures of the store in Albuquerque and the original store in Lincoln, NM available. As a final note, Penfield Gallery does not do appraisals.